Willie Mulhall's shop in Ardglass will be open continuously over Christmas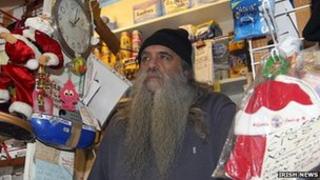 Many people are beginning to wind down and look forward to a break over the festive period.
One Ardglass man, however, is refusing to close-up shop at all over Christmas.
Willie Mulhall's old curiosity shop on Quay Street is open 24 hours a day for 365 days of the year and will remain open during all of Christmas Day.
The shopkeeper is expecting a busy day, supplying bits and pieces to customers who are unable to go elsewhere.
Willie usually staffs the shop during the night with his family helping out during the day.
He claims it has everything you can think of for sale.
"Sweets, cigarettes, candy floss, ice-cream - you name it," he said.
Despite being in a small village, Willie said the fishermen in the area are constantly in need of his products due to their unsociable working hours.
Although he will be in charge of the store during Christmas Day, the shopkeeper will still be treated to a home-made dinner.
"I don't shut, I just stay open and my wife, Bernadette, brings my dinner over the counter and I eat away and serve away," he said.
Willie joked that his workaholic lifestyle has led to a perfect union.
"She knew what it was like before she married me. She lives on one side of the street and I work on the other, so it's the perfect marriage," he said.
During the quieter hours, Willie indulges in his love of portrait painting.
A selection of his work is also available for sale in his shop.