Larne Grammar School is commemorating its successful alumni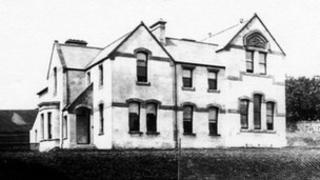 It is a school which has educated a lengthy list of well-known faces ranging from a former Presbyterian moderator to a retired British Lion.
Larne Grammar School is now recognising its impressive list of successful alumni in a new commemorative book.
The book coincides with the 125th anniversary of the school which was founded in 1886 by Sir Edward Coey and John Crawford.
Professional golfer Gareth Maybin, retired rugby player and current independent policing board member Trevor Ringland, and former RUC chief Sir John Hermon all attended the school.
Its principal John Wilson said a sub-committee made-up of a chairman, governors and teachers, decided the best way to recognise the school's anniversary was through a "pictorial representation".
He said that although the "coffee table book" spanned the full 125 years, it concentrated more on the last quarter of a century as a previous one had been produced to celebrate the centenary.
Recollections
The commemorative book highlights the key achievements of groups and individuals, with recollections from those involved as well as the previous three principals.
The current principal, who has been at the school for 11 years, said there are a few recognisable names who were educated at the school during his time there.
These include motorcyclist Jonathan Rea and Julie Nelson who plays for Northern Ireland women's football team.
Mr Wilson was especially keen to point out the achievement of different teams winning the Irish Championship's 4x100m relay two years running in 2007/2008.
"It is very unusual for a school to defend this," he said.
Mr Wilson said the book was proving popular and believed many had purchased it for others for Christmas.
"Generations pass through the school," he added.
"Many can see quite a few pictures of themselves and their children."
The former Presbyterian moderator, Reverend Dr Stafford Carson, was another who was educated at the grammar school and his memories are included within the book.
He said those who had completed their A Levels in 1969 got together for a reunion in 2009.
"A lovely sweet spirit existed among us," he said.
Dr Carson said he was aware many in his year now had successful jobs and mentioned the head boy in his school year was Norman Aspley, the chief executive of the Northern Ireland Science Park.
Although he said his "memories weren't particularly good ones due to all of the challenges of teenage life", he said the school opened up opportunities that had not been available to anyone else in his working class family.
"Looking back I realise how blessed I had been. I was from a very humble ordinary working class background but the school got me into higher education," he said.