Martin Corey to mount challenge to being returned to prison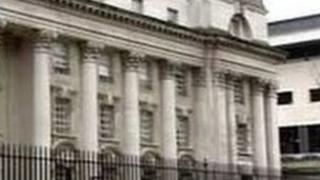 A convicted double murderer has won High Court permission to mount a challenge to being returned to prison.
Martin Corey was granted leave to seek a judicial review of the decision to revoke his licence over unspecified allegations that he was involved with dissident republicans.
The 61-year-old from Lurgan, County Armagh, received a life sentence in 1973 for the murders of two RUC men.
He was released on licence in 1992, having served 19 years behind bars.
In April 2010, Secretary of State Shaun Woodward ordered his recall on the basis of what his legal team have described as "closed material".
His revocation has led to a number of protest rallies in support of a campaign to have him freed.
Corey issued judicial review proceedings against the Independent Parole Commissioners on the basis of the alleged secrecy surrounding the reasons.
His barrister, Karen Quinlivan QC, argued that claims of involvement with dissident republicans have been made without going into detail.
She said it had been impossible to challenge the revocation order because of the undisclosed information.
Ms Quinlivan contended that the Grand Chamber of the European Court of Human Rights and the House of Lords both made it clear that details must be given in such circumstances.
The judge hearing the challenge ruled that an arguable case had been established on points related to an alleged lack of specificity.
Mr Justice Treacy granted leave to apply for a judicial review and fixed it for a full hearing in March.
Although the Parole Commissioners are the respondents in the case, the Secretary of State is also expected to be represented as a notice party.