Four men injured after east Belfast car incident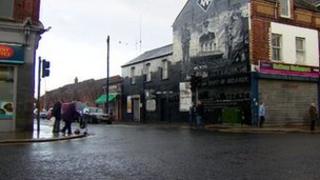 Four men have been injured, two seriously, in an incident in east Belfast in the early hours of Monday.
Three are in hospital after being hit by a car on the Lower Newtownards Road at about 02:50 GMT. Police say they are treating it as attempted murder.
The fourth man injured in the incident was found close to the scene and the police believe he was assaulted.
The car was found on fire near Conway Street in west Belfast about 25 minutes later.
Two of the men hit by the car are believed to be in a serious condition and the third has a suspected broken leg.
The MP for East Belfast, the Alliance Party's Naomi Long, said she was shocked by the incident.
"This is shocking and appalling crime. One of these men could have been killed," she said.
"The person driving this car has clearly no thought for the lives of others."
The men were hit by the car close to the office of the DUP MLA Sammy Douglas.
"From what I hear the people were just on their way home from some sort of function," he said.
"Now whether there was a row or whatever, we're not quite sure.
"It's a bit sketchy at this time because this happened about 03:00 GMT on Monday morning."
He said people in the area were shocked at what had happened.
"Coming up to Christmas nobody wants this to happen to any family and there are two men lying in hospital very seriously ill," he added.