Lessons to be learnt after flood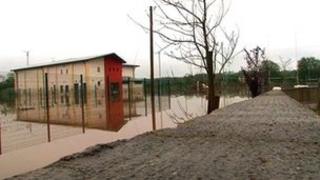 Rural Development Minister Michelle O'Neill has said lessons would be learnt in the wake of the October floods.
A report, carried out by her assembly private secretary, found the Rivers Agency was not sufficiently resourced to deal with major incidents.
"After the October floods I made an additional £1m available for flood alleviation measures," she said.
"However, it is clear that funding is not the only solution."
The minister said she would raise the resource issue at Executive level to see what could be done to ensure the agency was better equipped to deal with large-scale events.
"I was able to recently announce that flood alleviation schemes in Beragh and Ballygawley would be brought forward.
"The report has also identified that whilst the Rivers Agency has well established emergency response procedures in place, these could be strengthened with closer working with local councils.
"I would agree with the report's recommendation that protocols between the Rivers Agency and local community organisations should play a part in flood response. Such arrangements could help in the distribution of sandbags for at risk flood areas."
Ms O'Neill said she would meet with the chief executive of the agency to discuss how to implement the findings.