NI ferry travellers short-changed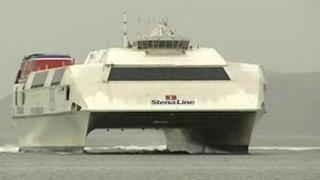 Ferry passengers sailing from Larne and Belfast to ports in Britain can be paying up to four times more than comparable journeys across the English channel, the Consumer Council has found.
While a survey found that most passengers said they were satisfied with the cost of travelling by ferry, the report raised questions about the fares charged on Irish Sea routes.
When the Consumer Council compared prices last summer, the average cost for a family-of-four travelling with a car on P&O's Larne to Cairnryan route was about £268.
On Stena Line's Belfast to Stranraer service the cost was about £261.
By comparison, the fare for a family and car travelling a similar two-hour crossing from Dover to Dunkirk was about £56.
That means the Irish sea crossing costs more than four times the cost of a journey of a similar distance across the English channel.
P&O said the comparison of fares between the Irish sea and English channel routes is misleading.
They said too many boats and subsidised foreign competition have driven prices on English channel routes to unrealistically low levels.
Another of the major ferry operators, Stena Line, said the important point to come out of the report was that only 5% of passengers were dissatisfied with prices and only 14% of people travelling by car were dissatisfied.
"Dover-Calais prices have always been unrealistically low," said Paul Grant of Stena Line.
"At those prices its simply unsustainable for an Irish Sea operation," added Stena's route director for Belfast-Stranraer.
The ferry companies also pointed out that fare increases have been kept below the rate of inflation as far back as 1993 while fuel prices have increased by over 500% during that time.
The Consumer Council said it wanted ferry passengers here to enjoy the same value for money as travellers using other ports in the United Kingdom.