Work under way at Derry landslide site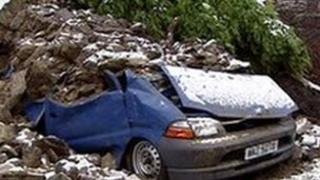 Work has now begun to secure the area where a wall collapsed causing two landslides in Londonderry last week.
Work by contractors in and around Marlborough Terrace began on Tuesday afternoon.
The site is being cleared and the work will concentrate on the areas at risk of collapse along a retaining wall and the reconnection of waste pipes.
The majority of priority areas will be concluded ahead of Christmas, Derry City Council said.
Residents in Marlborough Terrace and Marlborough Street have been warned against entering their back gardens or yards until further advised.
They should not enter the back lane where the collapse took place.
The same advice has also been made to residents in the immediate area of Harding Street and Abercorn Road where a section of a retaining wall also collapsed.
A council spokesperson added: "Residents are urged to complete and return their consent forms to assist with progressing work on site."
Landslide
Engineers were on site from Tuesday morning, trying to assess the best way to make the wall safe.
A landslide caused a wall to collapse last week, and a second section came down on Saturday.
Environment Minister Alex Attwood said up to £250,000 would be made available for the repair work.
At a meeting hosted by Derry City Council families were told of the progress being made to make the area safe.
The council's strategic director, John Kelpie, told residents that the insurance companies had let them down.
"The people who have acted spectacularly badly are the insurance companies," he said.
"We are going to try and hold these people to account and do what we can to move this on."
SDLP councillor, John Boyle, said money would come from the public purse to ensure the safety of the residents and their property.
"There will be men on site today, the area has to be made safe before the sewage problem can be sorted out," he said.
"Then we will be looking into the future to find a final solution."
Meanwhile Sinn Fein assembly member Martina Anderson said she was confident contractors would be on site as soon as possible.
"All credit to all involved because everyone did sterling work," she said.