PSNI to build helipad in Enniskillen police station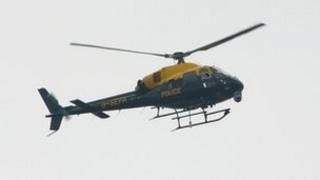 The PSNI has revealed plans to build a helipad at Enniskillen police station.
The police currently use three helicopters in Northern Ireland - all based at Aldergrove.
They said that having a helipad in County Fermanagh will mean the aircraft can be refuelled at any time without having to return to its base.
Two other remote landing pads are in operation - at Mahon Road in Portadown and Maydown, near Londonderry.
The PSNI is taking part in a series of community meetings with elected representatives, the District Policing Partnership and community groups before formally applying for planning approval for the helipad.
If approved, it is estimated the helipad will take 12 weeks to complete.
The helicopters are used in search operations, to track stolen and suspect vehicles and to evacuate casualties from serious incidents.
Area commander, Ch Insp Sue Steen, said the new facility will help improve the police service available in the west.
"Helicopters are a valuable tool for police in our normal operations, including investigations, anti-crime operations, traffic management, search and rescue, public order situations, crime reduction initiatives and tackling terrorism," she said.
"For some time we have been looking at proposals that could extend the length of time that our helicopters can operate in County Fermanagh.
"A number of sites for a refuelling base in the county were examined, and we believe that the location at Enniskillen station provides us with the increased operational capability we need."