Short Strand gun attack condemned by Belfast lord mayor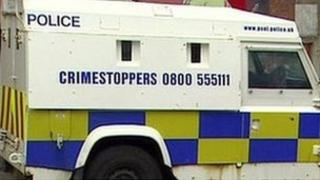 Shots have been fired at a house in Madrid Street in east Belfast.
Four shots were fired by a man at the door of the premises shortly after 23:30 GMT on Tuesday.
Police said no-one in the house was injured in the attack. Detectives have asked for anyone with information about the incident to contact them.
Lord Mayor Niall O Donnghaile said such incidents, "whether in the Short Strand or any part of this city," must be investigated by police.
Mr O Donnghaile said there were children in the house when the shots were fired.
"This is a time when kids should be excited about Santa coming, not about this type of activity coming to their home," he said.
'Criminal element's
"This is a busy street in the Short Strand area and there is no doubt that people were put at serious risk in the run-up to Christmas as a direct result of this reckless action last night."
He said the feeling in the area was that the attack "may have something to do with criminal elements".
"Regardless of that, it's fair to say that the community here in the Short Strand won't tolerate that type of activity, they won't tolerate it when people are being put at serious risk like we seen last night."
Mr O Donnghaile said there was a concern that similar attacks could take place.
"That is why I am saying that, certainly from the prospective of the community in the Short Strand, that people producing guns to resolve issues certainly will not be tolerated or accepted by this community," he said.
The incident was also condemned by DUP MLA Robin Newton who urged anyone with information to contact the PSNI.
"This is a serious incident in which the gunman intended either to murder his proposed victim or at least seriously injure the person," he said.
"A person who is prepared to use a gun in a built-up area is a dreadfully dangerous individual and needs to be taken off the street."