Irish President Michael D Higgins hopeful for future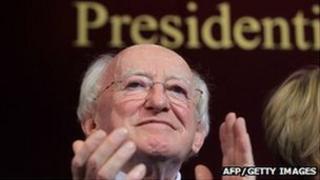 There are some positive signs in Ireland's economy, Irish President Michael D Higgins has said in his first Christmas message.
He said he was conscious unemployment and financial insecurity would cast a dark shadow over Christmas for some.
However, Mr Higgins said people had the resilience and wisdom to move beyond destructive cynicism and recrimination.
"Exports continue to grow, many companies have become more innovative and competitive," he said.
"Direct inward investment is robust but the great challenge of creating jobs, reducing unemployment remains.
"I am confident that, drawing on our shared strengths and our ethical values, we will rebuild a sustainable and strong economy while also at the same time, building a just and inclusive society that ensures the participation of all its citizens.
"I would like to send my best wishes for Christmas and the New Year to everyone here in Ireland and to our extended global family across the world."