County Derry Royal Irish soldier given top honour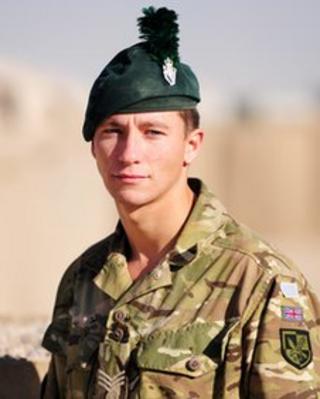 A Royal Irish Regiment soldier has been honoured as the Most Outstanding Soldier at an awards ceremony for British troops.
Sergeant Ryan McCready, from County Londonderry, received the award at the Military Awards held at the Imperial War Museum on Monday.
The 26-year-old was presented with his award by the Duke of Cambridge.
Sgt McCready said he was "taken aback" by the award and dedicated it to three "fallen comrades" in his battalion.
The Duke and Duchess of Cambridge and Prince Harry were guests of honour at the 'Night of Heroes' ceremony.
They were joined by Prime Minister David Cameron, defence ministers, military chiefs and famous names from the world of sport and entertainment, including David Beckham and Gordon Ramsey.
After presenting the award to Sgt McCready, the Duke of Cambridge paid tribute to the soldier's bravery.
"This is a well-deserved award," he said.
"Sgt McCready, you exemplify to an extraordinary degree the unique qualities that make the British soldier second to none - courage, steadfastness, professionalism, sense of humour and a deep humanity."
Sgt McCready serves in 1st Battalion of the Royal Irish Regiment.
Rangers Aaron McCormick and David Dalzell and Lance Corporal Stephen McKee were all killed while on a recent tour of Afghanistan.