Department of Health criticised over £38m pharmacy cuts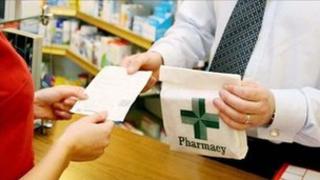 Health chiefs did not carry out proper consultation before imposing cuts of up to £38m to Northern Ireland's community pharmacy budget, a judge has ruled.
Mr Justice Treacy also held that no sufficient regulatory impact assessment was conducted as part of the process for bringing in a new drug tariff.
Legal proceedings were brought at the High Court by a body which represents more than 500 chemists.
Both sides will return to court early next year to try to resolve the issue.
After winning the judicial review, Community Pharmacy Northern Ireland (CPNI) said it was determined to work with the health minister to protect essential frontline services.
Outside the court, CPNI chief executive Gerard Greene said: "While we welcome the judge's decision that the proper consultation process had not been followed, it is imperative that we now find a solution that ensures fair and reasonable funding for the pharmacy services provided to patients in Northern Ireland.
"Community pharmacy is in crisis and we are concerned that unless measures are put in place straight away, this may impact on the long-term sustainability of community pharmacy in Northern Ireland."
The new remuneration and reimbursement arrangements were put in place in April of this year.
According to CPNI the cutbacks were too severe and did not involve fair and reasonable prices and fees.
Chemists across Northern Ireland have been badly hit and are struggling to stay open, it said.
A major concern was that any closures could impact on some of the 120,000 people who use community pharmacies every day in Northern Ireland.
'Department erred'
Lawyers for CPNI argued that the drug tariff was unlawful.
Although Mr Justice Treacy has yet to give out his full judgment, he declared that the department "erred in failing to carry out a regulatory impact assessment".
He also stated that there had been a failure to carry out specific consultation around the relevant issues.
The CPNI said it wanted a resolution reached as soon as possible.
Mr Greene added: "It's vital that we now remedy the situation to protect pharmacy services to patients."
A spokesperson for the Department of Health said: "The Department will wish to study the full judgement carefully. It will then wish to engage with CPNI representatives to discuss the way forward."