UVF supergrass trial adjourned for Christmas break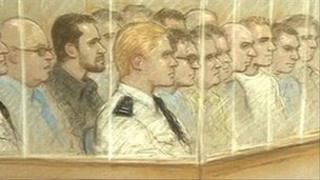 One of the biggest and most expensive criminal trials in Northern Irish legal history has adjourned for Christmas.
The Crown Court trial of 14 men, including the alleged special branch spy and alleged former UVF leader in north Belfast, Mark Haddock, will now resume in the New Year.
The defendants are implicated on the word of two men, brothers Robert and Ian Stewart.
All the 14 men accused deny all the charges against them.
Robert Stewart and his brother Ian have admitted UVF membership, and already served more than three years for their part in the murder of the UDA man Tommy English on Halloween night 2000.
Mr English was shot dead in front of his wife and children at his home on the Ballyduff estate at the height of a Loyalist feud between the UVF and UDA.
The Stewarts have given evidence and undergone weeks of sustained cross-examination by defence barristers.
Under legislation called the Serious Organised Crime and Police Act, they have signed an agreement committing them to giving truthful evidence about the men in the dock.
In such cases, so-called "assisting offenders" can have their sentences reduced in return.
In the case of the Stewart brothers, both have avoided the prospect of a further 19 years in jail, providing they are seen to have kept the agreement.
They handed themselves in to police in August 2008, and underwent more than 330 police interviews in total, some of them at secret addresses outside Northern Ireland.
The trial began on 6 September.