Court told Craigavon murder gun contaminated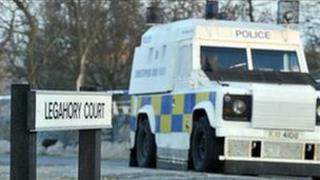 A gun used to murder a husband and wife was contaminated by DNA from a forensic science laboratory worker, the High Court has heard.
The claim was made by counsel for a man charged in connection with the double shooting of Hugh and Jacqueline McGeough in Craigavon in March 2011.
A judge rejected the assessment that the development amounted to any form of contamination.
Malcolm McKeown failed in his bid to be granted bail.
The 46-year-old County Armagh man, currently of no fixed address, is accused of possessing a firearm and ammunition with intent.
The charge relates to the investigation into the murders at the victims' Legahory Court home in March.
Mrs McGeough, 44, was shot three times and her 56-year-old husband once.
It was alleged that they were involved in the drugs trade in the area.
Mr McKeown was arrested and charged after a Colt revolver and two rounds of ammunition were discovered inside a plastic bag in Waringstown in July.
Forensic tests have confirmed it was the weapon used in the murders.
It was previously set out that the bullets were the same type of ammunition as those used.
Mr McKeown's DNA is alleged to have been found on a misfired round in the bag with the gun.
In court on Wednesday it emerged that another sample on the trigger of the weapon belonged to a member of staff at the forensic science laboratory.
'Contamination'
Neil Rafferty, defending, pointed out that the courts have emphasised the need for stringent precautions in dealing with such low copy number DNA samples.
"On the face of it we have proof positive that those conditions were not adhered it," he claimed.
"We have bone fide proof of contamination by a member of staff."
His contention was dismissed, however, by Mr Justice McLaughlin.
Stressing that these were issues for any subsequent trial, he said: "That isn't contamination. His DNA was found on a bullet in the bag."
Although Mr Rafferty contended that there was now some "doubt" in the case, the judge said he was clear on the state of the evidence.
Refusing bail, he added: "It's quite clear these two people weren't just murdered by some kind of afterthought."
"This was an execution that took place. These people were shot in the head, one of them three times.
"It is a very, very grave criminal offence and these matters all have to be seen in context."