£12k ruling over racehorse Nellie Grew's death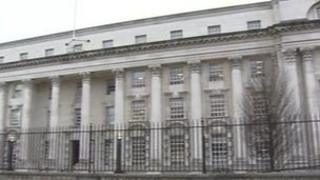 Two men have been ordered to pay more than £12,000 compensation over the death of a racehorse in County Tyrone.
The horse, Nellie Grew, had to be put down after a road crash in Beragh in August 2008.
Two men admitted liability for the crash, but the High Court was asked to rule on the level of compensation as the horse's market value was disputed.
The defendants put it at between £2,000 and £5,000, while the owners put the market value at £35,000.
They also said they had bought the horse for £8,000 and other costs such as insurance payments, training fees and racing fees gave an additional total of £12,000.
The four-year-old mare was in a horse box and was being taken to her first race at Down Royal Racecourse when the crash happened.
She had to be put down as a result of the injuries she suffered.
The High Court had heard that the horse was insured for £8,000, but that a stud owner and member of the Irish Thoroughbred Breeders Association had valued the horse at £35,000 while a Donegal owner had inquired about possibly purchasing it for 35,000 euros.
However, the court said the £35,000 valuation was based on comparative horses which had raced and earned their value through their performances on the track, while the 35,000 euro inquiry was "highly speculative".
It put the market value of Nellie Grew at the time of death at £12,000 and added the £220 cost of the horse's destruction and 4% interest from the date of the writ to the compensation.