Toxic waste found as illegal fuel plant dismantled in south Armagh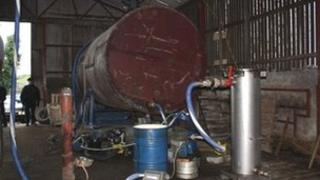 Five tonnes of toxic waste have been uncovered by HM Revenue and Customs officers during the dismantling of an illegal fuel plant in south Armagh.
Officers seized fuel tanks, pumps, a fuel tanker and 20,000 litres of illicit fuel during the operation in the Drummond Road area on Tuesday.
HMRC estimate the plant had been capable of producing nearly 8m litres of illicit fuel a year.
Two men are helping HMRC with their inquiries.
HRMC said the plant, which was hidden in a large shed on farmland, was evading more than £5m in revenue.
Graeme Anderson of HMRC said the "toxic sludge from the laundering process has the potential to cause devastation to our environment".
He added:"Buying illicit fuel isn't about saving a few pence; it is encouraging and supporting fuel criminality in our communities and the dumping of toxic waste, leaving the public with a hefty clean-up bill.
"It costs us all, as taxpayers, a lot more in the long run."