Twenty-six found guilty over parade protest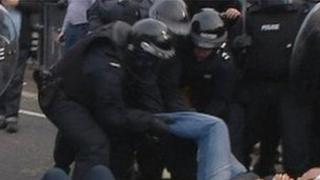 Twenty-five men and one woman have been found guilty of staging an illegal sit-down protest at a disputed Orange Order parade.
Identification evidence was held to be strong enough to convict them of obstructing lawful activity in public.
They staged the protest at the march in north Belfast on 12 July 2010.
Fines of £400 were imposed on each defendant. Nine were also found guilty of resisting arrest and received additional £200 fines.
A 27th accused was acquitted after challenging claims that he had been recognised at the scene on the Crumlin Road, near the Ardoyne shopfronts in north Belfast.
A police spokesperson said: "We have a commitment to all communities to address breaches of the law in whatever form.
"We are grateful to the court for the judgement and would encourage all citizens to work with police at public events to ensure peaceful outcomes."
Deputy District Judge Neil Rafferty said the protest was likely to have led on to later rioting by others in the area.
He said: "It certainly was the match that probably lit what became utterly disgraceful and disgusting and sickening acts of violence in this particular area."
The charges were defended with residents and campaigners claiming they were involved in a peaceful sit-down protest which did not breach a Parades Commission determination.
Two separate bodies operating in the area have been linked to protests against the parade: The Crumlin Ardoyne Residents' Association (CARA); and the Greater Ardoyne Residents' Coalition (GARC).
The demonstration at the centre of the case was said to have been led by GARC.
Laughter
During a four-day hearing at Belfast Magistrates' Court video footage was played in an attempt to identify defendants.
It showed those sitting on the road chanting "peaceful protest" at riot squad officers facing them.
Police witnesses also claimed they could pick out participants, some of whom were from Derry, from photographs taken on the day.
Amid heavy security for his judgment on Thursday, Mr Rafferty described the PSNI operation at the stand-off as an example of "softly-softly policing".
Although police batons were seen to be raised in parts of the footage, the judge said he did not see anyone being struck.
His comments provoked an outburst of laughter from defendants packed into the public gallery.
They were warned that any further outbursts could result in them being held in contempt of court.
At one stage, after being told one defendant lived near Omagh, Mr Rafferty commented: "There was a worrying feature that some people travelled great distances to be insulted."
He also stressed that, according to police, the accused were not involved in violence which broke out later in the area.
"In any civilised society the right to protest is respected," he added.
"Lawful protest is an important means by which citizens can display their displeasure or concern regarding an event.
"With it also comes a responsibility to act lawfully."
Outside the court GARC representatives issued a statement claiming the sit-down protest had been a peaceful expression of the right to live free from "sectarian harassment".
The coalition claimed its representatives faced "trumped-up charges" but vowed not to be silenced.
It further alleged that the "sham of a trial" showed police bias and the willingness of the Parades Commission to allow sectarian parades through unwanted areas.