Online project launched to discover Plumbridge's history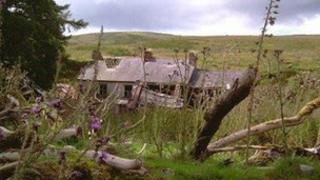 Who lives in a house like this? It's a question the community in Plumbridge, County Tyrone is trying to answer, with the help of the internet.
They can be seen all over the countryside - old, rundown houses, where families have moved away or died out, leaving just bricks and mortar behind them.
The mysteries behind these old homes have piqued the curiosity of local history buffs in the Glenelly Valley, near Plumbridge.
They have launched an online project to find out more about the social history of the valley, by posting photos of the houses and trying to identify the former owners.
"They hold so many memories," said Rose Mary Murphy, the secretary of the Glenelly Historical Society.
"They're part of our infrastructure, historically and culturally, and every single house here has a story.
"There were lots of scandals happening at the time and people addressed them by not talking about them.
"There was a veil of secrecy over the valley, but now, people are beginning to talk about those things and they're keen to have them handed on."
Worldwide interest
The society has created a Facebook page and it has attracted worldwide interest.
"The first night, I put up a picture at about midnight and asked, I wonder who lived here?", said Rose Mary.
"When I got up in the morning, I had an answer from a man in Australia, who knew who'd lived there and was able to tell me all about it."
Many local people are involved with the project. Young people are rediscovering the area, including the now-deserted townland of Goles which used to be the heart of the valley.
People like Michael McCormack, who have spent their whole lives in Glenelly, have lots of tit-bits of information to pass on.
"Up here in Goles, people owned lots of land," he said.
"Not very good land, but hundreds, maybe thousands of acres of land. We who lived in the lowlands, down towards Plumbridge, lived on three or four, 10, 20 acres of land.
"As a consequence, the people up in Goles felt superior because they had all these acres, their own sheep and were probably well-fed.
"So some wag in the village of Cranagh put the name 'the Lords' on them and it stuck!"
Preserving oral history
Most of the people who lived in Goles were members of the Duffy family and they were distinguished by their first names.
"There were the Gracies and down below them you had the Pat Charlies," Michael said.
"Then off to the left you had the Arties and if someone down in the valley was talking about the Arties, you immediately knew that was Artie Duffy's, not some other Artie."
Part of the project is about getting oral history written down and preserved.
"One thing we're interested in is this idea of the continuing relationship between the people who go and the people who stay," said Brian Lambkin from the Centre for Migration Stories at the Ulster American Folk Park.
"There's an opportunity now to stay in touch in a way that there wasn't in the past. Very often, when people left, it meant for good, never to see the place again."
With hundreds of people now taking photos and commenting on them online, Rose Mary Murphy said it is clear the houses and the memories they bring back are still important to people.
"When I post a house, to me just wallsteads, on Facebook, somebody can say my granny was born there and I remember she used to tell me about it, I remember eating scone bread there," she said.
"It would be awfully sad to think that they were to come back from Brisbane or America and that house wasn't here.
"Some of these people maybe never went further than to mass or to church on Sunday. But they were happy with their lot.
"Those houses were designed to their needs and within their budget, they didn't have mortgages.
"To knock down a house without even simply taking a photograph of it is sad, because someone was very proud of that house."