Dolphins come out to play at Killiney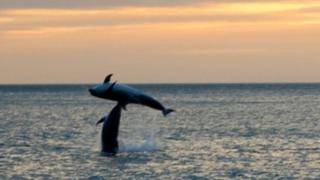 The shortest day of the year may have driven many indoors early, but it also brought a pod of dolphins out to play in the Irish Republic.
Blathnaid Healy captured the mammals early on Wednesday morning at White Rock beach in Killiney, County Dublin.
"I arrived at around 8.20am and watched them playing in the bay for over an hour," she said
Although the keen photographer often adds pictures of sunrises and sunsets to her blog, she claimed this was the first time she has spotted dolphins.
"I visit that beach very often, but I've never seen them before. However, I believe they are regulars in the bay," she said.
"Apparently there is a pod of three dolphins that have been seen in various locations close to the shore in the Irish Sea from Dalkey, County Dublin, to Greystones, County Wicklow."
Blathnaid said the animals may have been attracted by people braving the cold temperatures and swimming in the water.
"It's an amazing sight to see them playing in the water," she said.
"There were some people in swimming, which may have attracted the dolphins closer to shore. They seemed eager to socialise!"
The photographer claims she will now make sure to take her camera along on every visit to the beach just in the hope of capturing them again.