Belfast's Northumberland Street gates to open on Sundays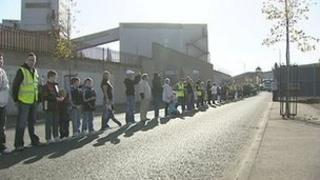 Security gates at a west Belfast interface are to be opened on Sundays, the justice minister has announced.
The move was agreed by people living around the Northumberland Street interface at a meeting earlier this week.
The interface is between the mainly Protestant Shankill area and mainly Catholic Falls. The first Sunday the gates will open will be Christmas Day.
Justice Minister David Ford said it was a "welcome step".
"Within the last six months we have, in consultation with local communities, reached agreement to open gates in Alexandra Park, Newington Street and now Northumberland Street. "
These developments show what can be achieved through local engagement, consultation and improved community confidence," he added.