Graham Furey, former Ulster Farmers Union boss, fined for dumping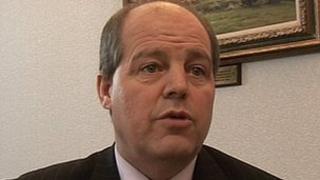 A former president of the Ulster Farmers Union, Graham Furey, has been fined £20,000 after admitting illegal dumping.
Mr Furey, 54, of Comber Road in Killyleagh, admitted four waste management charges.
The offences relating to 1,900 tonnes of waste took place between 2003 and 2008.
Mr Furey faces a potential bill of nearly £200,000 if he is compelled to remove the waste from his property.
A co-accused, 52-year-old Elvis Kirk of Crossgar Road in Killyleagh, was fined £1,500.
The court heard that Mr Kirk had dumped waste from the demolition of the former Downe Hospital at Mr Furey's property half a mile away.
Strong message
When the Northern Ireland Environment Agency inspected the site in 2008, they found hospital lockers along with construction and demolition waste on a grassed-over bank.
They also found hazardous oil and tar, along with electrical wiring, radiators and treated wood.
The judge, Mr David Smyth, said that as a former president of the Ulster Farmers Union, Mr Furey should have been aware that he needed a licence for such waste and should have known better.
When asked for a reaction afterwards, Mr Furey said "no comment".
A Friends of the Earth spokesman attending the hearing said he was pleased with the judgement and that it sent out a strong deterrent to others.
In a statement, the Environment Minister Alex Attwood said he welcomed the decision of the court and believed that it "sends out a very strong message".
"My belief as minister for the environment is that where there is a breach of planning or environmental law, offenders must be dealt with in a firm manner," he said.
"I am working to identify ways and means of creating a more robust regime around enforcement issues."