Belfast International Airport ready for Christmas rush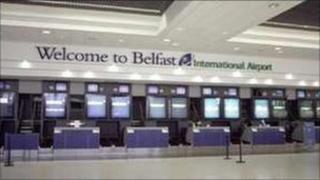 About 120,000 passengers are expected to pass through Belfast International Airport over the Christmas period.
Friday and Christmas Eve are traditionally the busiest of the year - with 40,000 travellers in two days.
Passengers are flying in from more than 30 destinations, with others making connections from across the globe.
Up to 10,000 people will pass through George Best Belfast City Airport each day - with some of the busiest routes being those from London and Scotland.
Belfast International Airport's business development director Uel Hoey said the overall traffic increase for the first part of December was up by 25% on the same time last year.
Emotional time
"Our airport becomes a great place for families being re-united with loved ones who return home for Christmas," he said.
"It's an emotional time for many who touch down here for the short holiday.
"The airport can easily accommodate the influx and the numbers who will be making return flights or getting away for the new year.
"However, we would ask passengers to give themselves a little more time if they're planning to be amongst the thousands who will come through our doors during this busy period."
George Best Belfast City Airport said it was now in its busiest week "with 8,000 to 10,000 passengers per day passing through the airport".
"We're also fully prepared to ensure everyone gets home to see their loved ones over the holiday period, and have just invested £500,000 and taken delivery of two new snow clearing machines from Norway," a spokesman said.