Alasdair McDonnell pays tribute to ex-chairman Jonathan Stephenson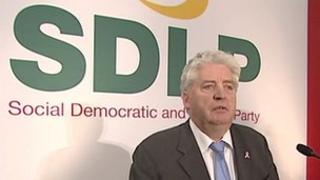 SDLP leader Dr Alasdair McDonnell has paid tribute to former party chairman, Jonathan Stephenson, who died on Wednesday.
Mr Stephenson was a Belfast city councillor and was chairman of the party between 1995 and 1998.
He joined the nationalist party in the 1980s and was its first official press officer.
Mr McDonnell said: "Jonathan devoted so much of his life to helping people and serving the community".
"He was a good man and will be sadly missed," he said.
Mr Stephenson also worked as a city councillor, representing the Castle area between 1993 and 1997. He was aged in his 60s.
He described himself as a "British born, English Protestant," and believed the SDLP should broaden to embrace more Protestants, community groups and young people.
His funeral is due to take place in Belfast on Saturday.