Website aims to whisk children away from computers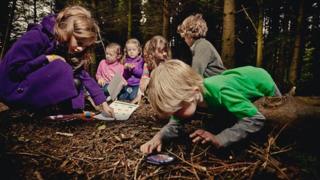 Gone are the days when children went out and played when the sun rose and they did not come home until they were hungry.
The world is now so engrossed in technology that often children do not know or appreciate what the environment has to offer. A new project called Laganscape seeks to address this.
It is a Landscape Partnership Scheme which has developed the Lagan Valley Learning website, the first of its kind in Northern Ireland.
Supported by the Heritage Lottery Fund, it aims to take children away from the computer and back to nature.
By bringing children outdoors to get their hands dirty, it tells them more about the world around them.
The environment plays an important role in children's education with the subject "The World Around Us" an integral part of the Northern Ireland revised curriculum.
Staff from Laganscape consulted with the Curriculum and Advisory Support Service (CASS) and a number of pilot schools to create an online educational resource, as many teachers had said they found it difficult to educate children about the environment.
Jo Boylan, Laganscape's educational and volunteer coordinator, developed the website.
"The whole ethos of the Lagan Valley Learning website was to address the World Around Us component of the curriculum. It brings together the key themes of geography, history and science," she said.
"We believe our website is fantastic in using all three, not in isolation, but together to teach these themes.
"I am an outdoor educator - I am not a teacher. I developed all these tricks of the trade over the years.
"I know how to interpret the outdoors and the website was designed to give teachers the confidence to use the outdoors as a classroom and bring kids out to enjoy what is around them."
The website covers 12 topics ranging from mini beasts, ponds and trees to the history of Lagan navigation and linen along the river.
There is a wealth of free support material available to download, including worksheets, teachers' notes, classroom power point presentations, practical activities and identification charts. All these tools can be used in school grounds or local parks.
In addition, six walking trails have been developed for Lagan Valley Regional Park.
'Get your hands dirty'
Ms Boylan stressed this facility is not just for schools, but also for families to enjoy.
"If you want a fun thing to do on a Sunday afternoon as a family, download one of the trails and come and enjoy the park. There is so much to learn about biodiversity, heritage, trees and nature and there are loads of fun-filled activities you can do on the trail that make it really fun and bring it alive for kids," she said
"Get your hands dirty, get the kids involved and really cook up a storm."
The website helps children learn about the environment - from the environment and not from a text book.
It encourages children to go outside and look for creepy-crawlies and discover other weird and wonderful creatures.
It also includes videos showing how to measure trees, go pond-dipping or make pine-cone bird feeders.
The website was launched in November with two teacher training sessions where local teachers from primary schools across Belfast were shown how to use the outdoors as a classroom. The initial feedback was promising.
Sarah Wallace, from Donegall Road Primary School, took part.
"This course was excellent. I definitely feel more confident in teaching outdoors," she said.
"The website is so impressive and is really user-friendly. There are plenty of excellent resources and the videos are good to help see how to do practical activities."
Dr Gillian Hume is assistant advisory officer for science at CASS.
"This website is a valuable tool in helping teachers deliver the Northern Ireland curriculum," she said
"It connects areas of learning through the umbrella of outdoor education and provides a wide range of suggested learning activities and resources to help plan interesting and innovative lessons relevant to the interests and needs of the children.
"The resources are vibrant, relevant and fun and will certainly bring a lot of enjoyment to learning."
To learn more about the venture log onto the website www.laganvalleylearning.co.uk.