Agencies discuss 1,900-tonne load of illegal waste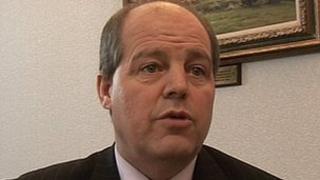 Down District Council has said it will work with the Environment Agency over what to do about 1,900 tonnes of waste buried illegally near Downpatrick.
On Thursday, former Ulster Farmers Union head, Graham Furey, was fined for allowing demolition debris from an old hospital to be buried on his land.
Mr Furey, 54, of Comber Road in Toye, admitted four waste management charges.
He could be liable for clean-up costs estimated at £180,000, if the council decides he must remove the waste.
A spokeswoman for the council said on Friday: "We will make contact with and be working with the other agencies to address the matter in the new year."
A co-accused, 52-year-old Elvis Kirk of Crossgar Road in Killyleagh, was fined £1,500.