Temporary postal staff walk out in row over pay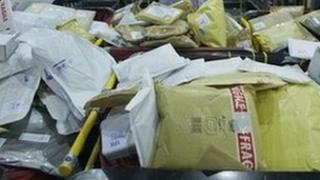 Temporary postal workers at a Mallusk sorting office have been told wages cannot be guaranteed by Christmas, according to staff.
Catherine Hardy from Glengormley started work on 30 November.
She said she and two other workers walked out on Tuesday after a senior manager claimed that payment before Christmas was uncertain.
In a statement, Royal Mail said the vast majority of temporary workers had been paid on time.
"The small minority of our temporary workers who were regrettably not paid on time or by the correct amount have now been paid," it said.
Ms Hardy said staff were due to get paid weekly and the pay delay has affected a significant number of staff.
"Myself, along with at least 100 other temporary employees found that after several weeks of working, no-one was receiving payments," she said.
"We just weren't getting paid for the work. This is a sham."
The temporary employment contracts are handled through Angard Staffing, a wholly owned subsidiary of the Royal Mail.
Royal Mail has apologised for any difficulties caused to the minority who did not receive their pay on time.
"We have taken action in every single case that we are aware of to ensure a payment has been made," it said.
"In some cases, we have done this by issuing a voucher which can be cashed at any Post Office branch."
Ms Hardy said that Royal Mail's management in Mallusk did issue a barcode to those who had received no payment which could be cashed at the post office.
She claimed this was for £350, a sum much lower than what she was owed.
Temporary postal workers across the UK have been experiencing similar problems over pay.