Mass interest for Eglish church webcast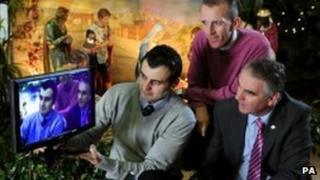 A County Tyrone church is preparing to broadcast the Christmas message to its parishioners around the world through a special webcast.
St Patrick's Church in Eglish is streaming its Christmas Masses on the internet to reunite parishioners who have been forced to emigrate in search of work.
Its parish priest Father Peter McAnenly said up to 40 young people had left the area in recent months to find employment, with many travelling to Australia.
But on Christmas Day they will be able to share the festival's spiritual significance with their families, via the latest technology.
The parish's pioneer association was behind the idea to enable services to be streamed online, with help coming from BT and Dungannon company MCN Media.
Fr Peter McAnenly said:"There have been quite a number of young people from the locality who have gone abroad and particularly to Australia for work in response to the current economic downturn.
"The pioneer association was keen to reach out to our young people in some way and this is what the association has come up with.
"We have installed a new camera in the church and mass is being screened on Christmas Eve and Christmas morning and for the next few weeks.
"I also expect a big gathering in the church on Christmas Eve and Christmas Day."