Castle Court, Belfast shopping footfall 'increases by 15%'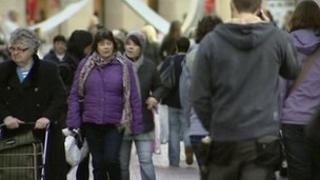 The manager of Castle Court in Belfast has said that the number of people coming through the doors has increased significantly compared to the week before Christmas last year.
Paul McMahon said overall sales figures were not available but footfall had increased by as much as 15%.
He said that the milder weather was the main contributory factor.
But he warned that the increase may not make up for difficult trading conditions before December.
Earlier this month, the other main shopping centre in the city centre, Victoria Square, said Saturday 3 December was its busiest since it opened in March 2008.
Mr McMahon, who is also involved with Belfast Chamber of Commerce, said that the Christmas boost was crucial but would still not be enough to prevent some retailers recording a difficult year overall.
"It is a very short period of time that we have seen that level of increase," he said.
"It has not been enough to relieve all the issues that retailers have experienced for the remainder of the year."
Christmas shopping in December 2010 was badly hit by some of the coldest weather in recent memory with heavy snow and freezing temperatures in the week before Christmas.