Donaldson wants Kevin Fulton evidence used in 1991 murder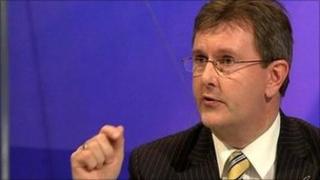 A DUP MP has called for a new investigation into the 1991 murder of a County Louth farmer.
Tom Oliver was shot dead near Belleek in County Armagh after he was abducted by the IRA and accused of being a Garda informant.
Jeffrey Donaldson has called for the murder to be re-examined after new information was given to the Smithwick Tribunal by a former British agent.
Mr Donaldson said the new evidence from Kevin Fulton needs to be examined.
The tribunal is investigating alleged Garda collusion in the murders of RUC officers Harry Breen and Bob Buchanan in south Armagh in March 1989.
The DUP MP gave evidence to the hearing himself earlier this month and has called for further investigations into Mr Oliver's murder.
"In light of the evidence given by Kevin Fulton at the Smithwick Tribunal I believe that it is time this police investigation was reopened and the evidence provided to Smithwick was taken in determining who was responsible for this murder and whether there was collusion involving a Garda officer that brought about the death of Tom Oliver," he said."
The Garda declined to comment on the matter.