Father continues cancer charity in memory of daughter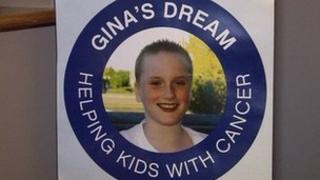 For 17 years Billy McCrory from Castlereagh has been helping children with cancer and their families.
Last year he received an MBE for the work he does with his charity Shine A Light.
From organising trips to Lapland to arranging backstage passes to concerts and West End shows, Billy has touched the lives of hundreds of people.
He has announced his retirement, so one of the families he helped has decided to carry on his work by setting up a new charity in memory of their daughter.
Gina's Dream is in remembrance of Gina McCusker who died two years ago on her 12th birthday.
When she was diagnosed with cancer, the Shine A light Charity made sure she would have something to look forward to in between the many hospital appointments.
Billy arranged a visit to a West End Show and a backstage pass to meet the stars.
But he said it was said Gina's aim to help other children like her which had inspired the new charity.
"Sadly before Gina passed away, she said it would be her dream when she grew up to help others just like her and I thought that was a lovely thing to hear from a child," he said.
"Memories are an amazing thing. Unlike cancer, memories can't be taken away. They will be there forever."
Gina's father Eugene, from Irvinestown, is now running the Gina's Dream charity and has recently taken several families on the trip of a lifetime to Lapland.
"With Billy, he just turned Gina's life around - stuck in the doldrums - where you were in and out of hospital all the time," he said.
"For me to help anyone, not only my family, but families throughout Northern Ireland, something like this can't die."