A record number of shoppers hit the post-Christmas sales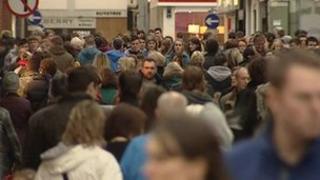 A record number of people have been shopping in the sales which started on Boxing Day, according to Belfast city centre management.
The figures follow successful pre-Christmas sales figures reported by businesses.
Andrew Irvine, Belfast city centre manager, said there were 20% more people shopping compared to this time last year.
He put this down to better winter weather and the recent MTV awards.
"The city looked absolutely fantastic when it was broadcast during the MTV awards - that seems to have pulled a lot of people in," he said.
He used House of Fraser in Belfast as an example of the city's success in comparison to the rest of the UK.
"They were second in their chain nationally - beating Oxford Street in London into third place."
Victoria Square manager Hugh Black said the centre had experienced its busiest Boxing Day ever.
"It follows a record-breaking week last week, during which we also experienced our busiest day ever," he said.
"It has been a huge relief to all in the retail sector that the weather has been much milder this year, which has undoubtedly helped to improve trade this year."