'Overwhelming' response to appeal for new mums to donate breast milk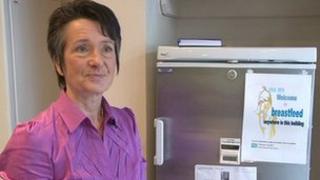 A service that helps premature and seriously ill babies has had an overwhelming response to an appeal for new mums to donate breast milk.
The Human Milk Bank in Irvinestown is used for babies in neo-natal units across Ireland who cannot be fed by their own mothers.
In September stocks had reached a critically low level.
Since highlighting the situation more than a hundred new mums have come forward.
The service is now having to buy an additional freezer to store the milk.
It was thought supplies had been hit by women who would have been donors returning to work sooner because of financial pressures.
Anne McCrea manages the milk bank and said the appeal had "done wonders to the babies of Ireland".
"This has made a fantastic difference because we have managed to support many tiny premature babies," she said.
"Some of the smallest babies we provide milk to are literally the size of your hand."
Ms McCrea said triplets, twins and a set of quads had been helped by the milk.