Londonderry GAA club badly damaged in blaze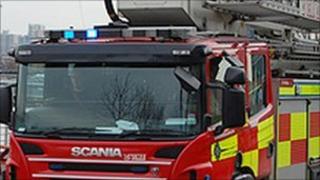 A GAA clubhouse in Londonderry has been badly damaged in a fire.
The blaze at Sean Dolan's in the city's Creggan area was spotted at about 04:00 GMT on Wednesday.
Fire officer Kevin Lynch said controlling the fire was made more difficult by strong winds which fanned the flames.
"We were quite pleased with the amount of the building we were able to save, taken the conditions we were met with," he said.
"The flames were being fanned by high wind and this was pushing the fire through the building quite quickly, but we were able to make our way into the building and using fire-fighting jets, were able to stop it travelling through the remainder of the building."
'Roof has gone'
Police have cordoned off the area around the club while an investigation is carried out.
Club chairman Hugh Wilkinson said the roof of the building "had gone".
"We are absolutely shocked. The community can't believe what's happened here," he said.
"People are just wakening up to this and don't know how something like this could have happened in a quiet wee place like the Creggan."
Sinn Fein Deputy Mayor of Derry Kevin Campbell said the venue was used by many in the community and it was hoped the clubhouse would be rebuilt as soon as possible.
"As well as being a focal point for the local Gaelic club, this building also provides employment for local people," he said.
"As a club they are totally embedded within the Creggan community and have built up an excellent infrastructure, particularly at youth level, a policy which has borne fruit with a number of successes in recent years."