Man with gun is arrested at Debenhams shop in Belfast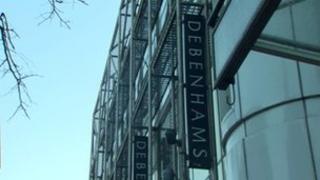 A 22-year-old man is still being questioned after an incident involving a man with a gun in Debenhams in Belfast city centre on Wednesday.
Eyewitnesses said a man, who appeared to be carrying a rifle, threatened staff at a perfume counter in the store at Castle Court.
Officers armed with taser guns arrested him but did not use their weapons.
Police said they had received reports of a man behaving suspiciously at about 14:20 GMT.
A suspected firearm was recovered by police.
In a statement, Debenhams confirmed that a man had been arrested at its store in Royal Avenue.
"We take the safety of our employees and customers extremely seriously and the authorities were called as soon as our security staff became suspicious," a Debenhams spokesperson said.