University analyst warns on Christmas spending figures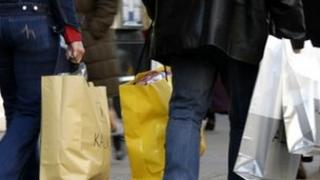 Increased shopper numbers do not necessarily mean increased spending, a leading retail analyst has warned.
His comments come as traders reported record numbers of people visiting stores in Belfast city centre.
The University of Ulster's Donald McFetridge said no trading figures were available yet for Northern Ireland.
"It is important to take a look at the bigger picture and to remember that, at this stage, we don't know how much was spent," Mr McFetridge said.
Mr McFetridge, who lectures in retail management at the university, said he been listening to reports of "wonderful Christmas trading and Boxing Day sales".
"I very much hope they turn out to be accurate and that customers were really spending," he said.
"I learned this morning (Wednesday) that one County Derry fashion retailer with a very large store took £75 in total on 24 December.
"All we have is footfall statistics and sometimes these are not reliable.
"Footfall does not always correlate positively with consumer trend.
"We need to wait until we hear what went into the tills before we start listening to statements that NI is ahead of the rest of GB."