Charity worker Orla Sheehan's mind still in Kenya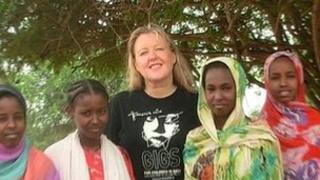 A Belfast woman who has recently returned from a solo charity mission to a famine-hit region of Kenya has been talking about her experiences.
The Tuesday's Child charity joined other aid organisations just as fighting broke out with Islamic militants in neighbouring Somalia.
Although back in the safety of her Belfast home, Orla Sheehan said her thoughts remained with the starving families she met in northern Kenya.
East Africa is experiencing its worst drought in 60 years.
"We just weren't able to get a carrier to airlift aid free so we decided to go ourselves and it's very important because in Kenya there's a lot of corruption," Orla said.
"So we brought funds there and bought supplies locally and went out and distributed about 10 tonnes of food and about 15,000 cartons of milk.
"Before we gave out the food, the women were down praying and thanksgiving for the food and they were only getting 3kg of fortified food to last a month.
"There were children all along the road just begging for water even before they got food and then you also found groups of children in dusty school uniforms waiting by the side of the road in the hope that somebody would come along just to pay their school fees because the schools offer food."
Orla said coming from famine in Africa to the festive season at home was an uncomfortable experience.
"I actually find it quite hard to sit at a table and eat a meal," she said.
"I also find the sheer volume of food here and the availability of food and the sheer waste of food here quite difficult to rationalise."
She said her month in Africa had made her determined to help more children in the year ahead.