Turkey murders accused to face bone marrow test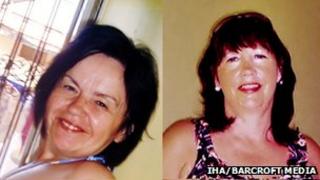 A judge in Turkey has ruled that a man accused of murdering two County Down women will be required to have a bone marrow test to find out how old he is.
Recep Cetin, who is suspected of killing Marion Graham and Kathy Dinsmore, faced a hearing on Thursday.
He claims he is 17, but lawyers representing the families of the two women believe he is older.
If he is over 18, he will be tried in an adult rather than juvenile court
That means he would face a much tougher sentence if convicted.
Mr Cetin was the boyfriend of Shannon Graham, Marion Graham's 15-year-old daughter.
Shannon gave evidence for an hour during the hearing in the Turkish city of Izmir.
She gave a statement to the judges as a complainant.
Shannon told the court she was "deeply saddened" by the murders.
She added that Mr Cetin had never asked him to marry her or to get engaged.
However, she believed that her mother wanted her to leave Turkey and not come back because of her relationship with Mr Cetin.
She claimed this may have motivated him to kill her mother and Kathy Dinsmore.
Lawyers for Mr Cetin are claiming that he acted in self-defence.
The lawyer for the Graham and Dinsmore families said he did not believe this defence was logical.
The next hearing will be in February.