Derry priest Fr Paddy O'Kane forgives Christmas thief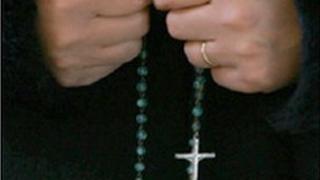 A Londonderry priest has said he bears no ill will to a man he gave shelter to over Christmas, even though he stole hundreds of pounds from him.
Father Paddy O'Kane from Holy Family Church in Ballymagroarty let a homeless man stay in his house on the Sunday before Christmas.
The man, who the priest said "looked in a bad way", rang his doorbell at about 05:00 GMT.
"The more I listened to him at the door the more I realised that this genuinely was a desperate man," Fr O'Kane said.
"I invited him inside for a cup of tea."
Over the tea the priest listened to his story.
The man was homeless and from what he said, Fr O'Kane believes he was suffering from depression.
"I believed his story that he was going to take his own life - I have had depression myself in the past and I would recognise the symptoms.
"He had a good night's sleep - he had been walking the streets the night before and he was wringing wet - I gave him fresh clothes and he slept.
The man got up at about 13:00 GMT and had tea and toast.
"Before he left he asked me for a blessing and said to me 'father you saved my life'," the priest said.
Fr O'Kane didn't realise until the next morning that money was missing from his office.
"He was the only one who had access to that part of my house," he said.
"At first I was angry and hurt, I felt that my trust had been abused.
"But as time has gone by I've learnt to see the bigger picture - that this was the act of a desperate man.
"Something must have come over him, I don't think he was conning me from the beginning trying to get access to the house.
"I see his stealing from me as an act of desperation."
Father O'Kane said he would appeal for the man to turn his life around.
"With God's help he can make a new start. I saw a lot of goodness in this man," he said.