Mary and Martin McAleese get Tipperary Peace Prize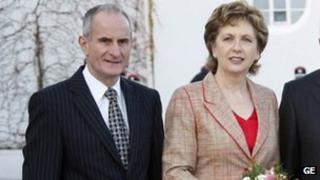 The former Irish president Mary McAleese and her husband Martin have been jointly awarded a peace prize for their reconciliation efforts in Northern Ireland.
The Tipperary International Peace Prize was founded in 1984.
It recognises people who promote peace on the island of Ireland and abroad.
Previous winners include former South African president Nelson Mandela and the former US president Bill Clinton.
Previously, Mrs McAleese, has described the out workings of Northern Ireland's peace process as "one of the greatest joys" of her life.