Irish League football club Cliftonville ban six supporters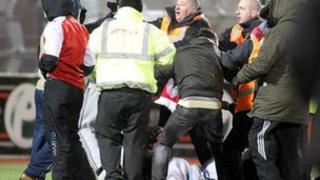 Irish League football club Cliftonville have issued bans to six of their supporters and warned spectators they will not tolerate any breaches of their code of conduct.
The punishments vary from a one-month exclusion order to life bans and are in connection with behaviour at recent games with Coleraine and Crusaders.
The north Belfast club said they expected to issue further bans.
They said they were in the process of identifying individuals.
Cliftonville said they were continuing to co-operate with the PSNI in their investigations.
"Be assured that, should any person partake in such breaches of our code of conduct, they too face the possibility of sanction by the club," a Cliftonville statement said.
"Cliftonville FC do appreciate the fantastic support we have had this season from the vast majority of our fanbase and are determined that this will not be sullied by a few."
A 16-year-old boy was arrested after Coleraine player Johnny Black was punched as he left the pitch at Cliftonville's home ground Solitude last month.
Mr Black was punched after Cliftonville fans ran onto the pitch at the final whistle of the game.
The defender had scored the winning goal for Coleraine late in extra-time to defeat Cliftonville 2-1 in the League Cup semi-final.
The youth who was arrested was later released on police bail pending further enquiries.