Report suggests huge house price drop in Irish Republic since 2007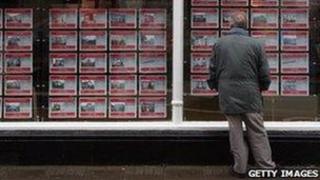 A new report suggests that asking prices for houses in the Irish Republic are less than half of what they were at their peak in 2007.
According to property website Daft.ie the average asking price is now 175,000 euros.
That is compared to 366,000 euros in 2007.
Daft said asking prices fell by an average of 8% between September and December last year, with an overall 18% decline in prices in 2011.
"It is tempting to see larger house price falls as a bad thing and no doubt many, particularly those in negative equity, will see this dramatic fall in those terms," Ronan Lyons, economist at Daft.ie and author of its report said.
"However, if the size of the correction in house prices is determined by fundamental factors, then it is better for the prices to race to the finishing line than crawl there."
New figures published in the report also outline the speed at which properties are selling.
In Dublin, about one half of properties sell within six months, while in Connacht and the three counties of Ulster in the Irish Republic, it takes a full year for the same proportion to sell.