Consultants paid to review consultants says Mike Nesbitt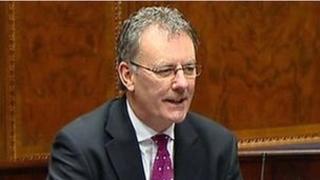 The Office of the First and Deputy First Minister has been accused of wasting money by employing consultants to review other consultants' work.
Ulster Unionist MLA Mike Nesbitt said it cost the tax-payer almost £20,000.
The disclosure came in a response to a written question from the Strangford assembly member.
He said two five-figure sums were paid to consultants following the publication of the draft strategy on cohesion, sharing and integration.
"Whatever way you dress up the language, they paid consultants to review consultants," Mr Nesbitt said.
"They spent £22,945 on what they are calling 'independent facilitators' who helped deliver 11 public meetings and 15 events for specific sectoral interest bodies.
"They then paid a further £18,052 on what they describe as 'independent analysis' and the latter's report makes clear that their terms of reference included an evaluation of the consultation process undertaken by the original group, and an assessment of how inclusive those meeting were.
"In other words, OFMDFM paid one group of external experts to comment on the work of another group of external experts.
"In the current economic climate, this must be hard to justify."