NI men part of world record bid boat crew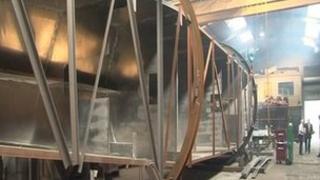 Two men from Northern Ireland are planning to smash the record for travelling around the world in a speed boat.
They have been selected to be part of an eight man crew on a specially designed vessel that is being built at the moment.
The current world record stands at 60 days and was set by a New Zealander.
But Peter Giovannoli from Donaghadee and Charles Stewart from Cushendall are confident at least 10 days can be shaved off the existing time on the 24,000 mile trip.
Peter said it is down to the design of the boat called the 'Good Heart'.
"It doesn't go over the waves it goes through it, it is a wave piercer, so that means going up and down puts 5,000 miles on the journey going through the waves, we are cutting all that out," he said.
Charles Stewart said he knew they will encounter some dangers.
'Prepared'
"We have quite a lot of debris from recent tsunami's and earthquakes so the main problem is going to be floating debris, cars, containers, wooden structures, things like that, so that is going to be our main hazard," he said.
"The main thing to deal with them is to keep a calm head, to be prepared and to just take everything in our stride."
There will be eight men on board.
"With it being a wave piercer the boat will be closed, so you are in this confined space, so it will probably be four-on four-off," said Peter.
"You'll just be standing all day looking out through the window."
Charles said the right weather was crucial.
Waves
"Although we have had it pretty wet and windy here, over all around the world if we'd been doing it this time hopefully we will get the same weather, there's not been much wind around the world on route," he said.
"But we will anticipate big seas we are not going to get it all plane sailing, but that is part of the design of the boat is to have it with wave piercing."
Englishman Alan Priddy is heading up the crew.
He sailed around the world in a yacht three years ago.
He has helped design the speed boat - which is being built in Dudley in England - where the Titanic's anchor was made.
"I needed to work with a structural engineering company that were actually going to listen to everything I said and enter into a dialogue of engineering skills, my knowledge of the sea and their knowledge of putting metal together," said Alan.
A Bangor company is building a part for the hull of the boat. Keith Nixon is from Whale Pumps.
"As these guys are piercing through the waves there is going to be splash going in over the boat which gets down into the boat," he said.
"Rain water obviously gets down into the boat and the bilge starts to flood up with water, so that water needs to be evacuated and our pumps will do that automatically they will evacuate the unwanted water."
The 90 ft boat has cost £1.6m to date.
One of its many bonus features is that it can hold 30 tonnes of fuel.
That means less stops - five compared to 25 for the last world record.
'Tough'
"Fair play to them, they are brave men," added Keith.
"It is going to be a tough one certainly - we have seen some of the footage of people who have done it before - it is a hard one and yeah it will be exciting to watch and exciting to follow as they go around."
Peter Giovannoli said it will be tough, but thankfully they all get on.
"We are all friends, we don't lose the head, we are all easy going and I think that is part of it all," he said.
"It has to be that way you know."
He is proud to be taking part in the challenge.
"The day I will finish I will probably cry," he said.
"You know because it is a great achievement if it all comes together."
The Good Heart should be ready by the spring, for the record attempt in November.