David Ford confident on Northern Ireland prison reform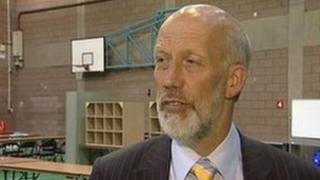 Justice Minister David Ford has said he is confident he can deliver on fundamental reforms to the prison service in the year ahead.
One of the key reforms is a package designed to change the staff make-up by allowing officers over 50 to leave.
It emerged last month that 99% of those eligible have expressed an interest in taking redundancy.
Mr Ford denied that was a sign morale in the service was low.
"I think you have to look at the circumstances in which a very significant number of the officers we are talking about have over 35 years service," he said.
"Something like two-thirds of them have over 35 years service.
"So these circumstances, with the reforms and the changes that are coming though, when you particularly look back at what these officers had to deal with in the past, it is not surprising that many of them are showing a degree of interest in the exit scheme."
In October, Mr Ford called an independent review of the prison service a "watershed".
The review team, headed by Dame Anne Owers, made 40 recommendations on how the service could operate more efficiently.
Mr Ford said the issue of badges and emblems in the prison service would continue to be discussed as part of fundamental reform of the service.
In November, First Minister Peter Robinson warned he was prepared to resign if the justice minister forced through changes to the prison service's emblems.
Mr Ford said all elements of change remain up for discussion.
"The reality is that issues around emblems were being discussed by the prison service before devolution," he added.
"It is quite clear from the response that has happened that there will be issues that will need to be addressed, but to say that something is off the table does not mean we can ignore the necessity for fundamental reforms in the prison service.
"I am not currently actively pursuing those changes, but I don't believe it will be possible to carry out the reforms we need without addressing issues like badges and symbols."
Mr Ford added that he was keen to ensure the "best possible affirmative action programme" was in place to encourage applications to the prison service from "right across the community".