Lisburn SDLP mayor criticises party leader over MLAs' pay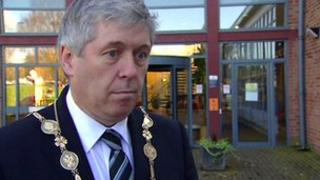 The SDLP mayor of Lisburn has strongly criticised his party leader over his suggestion MLAs should be paid more.
Alasdair McDonnell claimed that assembly members should get a pay increase and a better pension package.
MLAs currently receive a basic salary of £43,000 a year.
But Councillor Brian Heading has disagreed with the SDLP leader and said the 108 assembly members do not need a pay rise when so many people are struggling financially.
"The MLAs should not be looking at improving their pay or pension schemes when so many people are having their pensions cut and so many people are losing their jobs," the Lisburn mayor told Radio Ulster.
"There is an independent body that looks at the salaries for the MLAs. The independent body can reduce their salaries as well as increase them.
"And the MLAs must have some measures where they can turn around and say we are not accepting a pay increase."
But Mr Heading rejected that his disagreement with the SDLP leader was personal.
"Some people are of the conclusion that this is a personal thing between me and my party leader. I disagreed with what my party leader said and I made my views known. This is nothing personal with the party leader.
"It is the view of one party member who has taken the view to disagree with his party leader over comments that he made about MLAs."
'Starvation wages'
Mr Heading also suggested that MLAs need to be aware of the financial reality that many families in Northern Ireland are facing.
"I would challenge any MLA or MP to give it a try and live on the benefits that families have had to struggle with this Christmas," he said.
"In the city that I represent there were families receiving food parcels. In the 21st century with the economy and standard of living that we are supposed to have families are surviving on food parcels.
"That is the reality and that is the thing the assembly needs to get their head around."
Dr McDonnell has defended his stance and reiterated his call for better pay and pensions for assembly members.
"We in the SDLP stand for decent pay and conditions for all workers, including elected representatives and decent social protection for all," the SDLP leader said.
"Cllr Heading is entitled to his opinion but I think he is wrong. In the face of witch-hunt reporting and with so many other politicians keeping their heads down, we need to get our facts right and keep our eye on the vital democratic principle at stake.
"Even if we pay MLAs starvation wages there is no guarantee that the areas of deprivation Cllr Heading is properly focused on will be tackled any better."