Northern Ireland power cuts affected 35,000 homes says NIE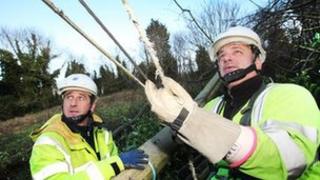 About 35,000 people suffered power cuts during Tuesday's storms, Northern Ireland Electricity has said.
The company said power had now been restored to "all but a handful of customers".
Those remaining off supply would be restored on Wednesday, it added.
"We worked closely with the Met Office to prepare for this event which saw gusts of over 80 miles per hour," NIE's Roy Coulter said.
"We had teams in place early on Tuesday morning so were able to respond quickly when the storm, hit.
"Customers across Northern Ireland were affected however the Ballymoney, Ballycastle, Ballyclare, Eglinton and Strabane areas suffered the most damage."
The strongest recorded gusts in Northern Ireland on Tuesday were 75mph in Castlederg, with speeds of 105mph in north Donegal in the Irish Republic.
The areas worst affected were the north and east coasts.
The strong winds disrupted traffic, with trees blocking several roads.
Some property was also damaged. In Enniskillen, an Asda store had to close after the wind ripped off part of the roof.
The weather also affected a number of ferry sailings.
In Derry, a pensioner was left badly shaken after a tree crashed down near his home on Monday night.