Northern Ireland mother's anger at court ruling on custody of son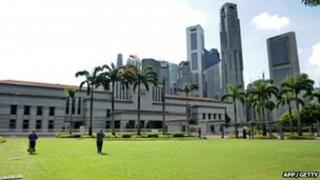 A Northern Ireland mother has said the court system has let her down after a ruling which awarded her custody of her son was overturned on Christmas Eve.
Tracey McCay moved to Singapore last year when her husband got a job there.
The couple broke up while on holiday in Indonesia in October. Mr McCay returned to Singapore with their six-year-old son, leaving his wife behind.
Mrs McCay said she was disappointed at the recent Northern Irish court decision.
"It is killing me not to have my son," she said.
"It is very cruel that he is left without me, he is only six. "He doesn't understand what is going on.
"I'm very disappointed with everything over here.
"I have been told in Singapore to fight here. "Here I've been told to go to Singapore."
Mrs McCay had been living in Singapore on a dependant's pass - a family relocation visa issued to the spouse or child of current visa holders in the country.
She fears that if the pass is cancelled she might not get into Singapore to fight for custody of her child.
"If I do go over there I won't have any money because I won't be able to work there," she added.
"If I have to go back and sleep on the streets I will do so.
"It is going to be extremely difficult because I don't think a judge is going to allow me to have custody if I'm sleeping on the streets."
She also wants to clarify what international law dictates in such situations.
"I would like to appeal to anyone who is out there who is thinking of moving away to a foreign country please do your research first, because I do not want anyone to go through what I'm going through," she said.