Rise in number of tourists to Northern Ireland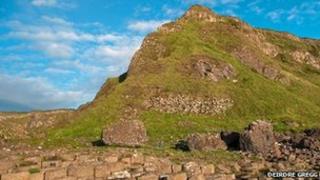 The number of overseas visitors to Northern Ireland increased by 6% in the first nine months of 2011, compared to the same period of the previous year.
The figures also show that overseas visitors spent an estimated £291m during the period.
That represented an increase of 20% compared with the same period in 2010.
Northern Ireland residents took 1.5 million overnight trips within the country, with an associated spend of £121m.
In the same period NI residents also took 1.8 million tourism day trips within Northern Ireland.
Tourism Minister Arlene Foster said: "The domestic market and the increasing popularity of the 'staycation' holiday is crucial to the long term sustainable growth of tourism in Northern Ireland."
The minister said the overall figures, which have been released by the Northern Ireland Statistics and Research Agency, were encouraging.
"This promising performance is very timely given the recent launch of the Northern Ireland Tourist Board's NI 2012 campaign, 'Your Time, Our Place' and momentum will increase as we move further into 2012," she said.
"Tourism Ireland will also be rolling out a busy programme of promotional activity to target a range of potential visitors around the world in the run-up to the London 2012 Olympic Games and will be liaising ahead of the games with VisitLondon and VisitBritain."