Royal Portrush to host golf's Irish Open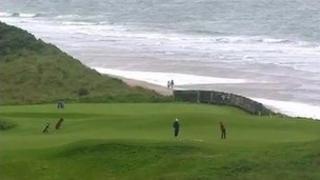 The Irish Open golf championship will be held at Royal Portrush Golf Club this summer.
An announcement is due to be made by the European Golf tour at the club on Friday.
However, a senior source within the sport has confirmed to the BBC that the tournament will be staged in Portrush in July - a year earlier than planned.
The last time the north coast course staged a major competition was the Open in 1951.
The last time the Irish Open was played there was in 1947, while the last time it was played in Northern Ireland was in 1953 at Belvoir Park Golf Club in south Belfast.
It had been thought the tournament would return to the Dublin area in 2012 and then north of the border the following year.
In July of last year, Tourism Minister Arlene Foster confirmed the Northern Ireland Executive would provide financial assistance to help bring a major tournament to Royal Portrush.
Northern Ireland's profile in the golfing world has been hugely raised by recent major victories for Darren Clarke, Graeme McDowell and Rory McIlroy.
Rory McIlory said he was keen to try to win in his home country.
"It's nice to come home and support your home tournament and maybe bring a little bit of joy back to people's lives by playing your home event, so I'm looking forward to getting there and trying to win it," he said.
Graeme McDowell said he was totally behind the event coming to his home town.
"It's tough times here in Ireland so sponsors are hard to find, but Irish golf has never been stronger," he said.
"We are 100% behind anything we can do to make the Irish Open in Portrush the best it can be."