Alasdair McDonnell apologises over MLA pay comments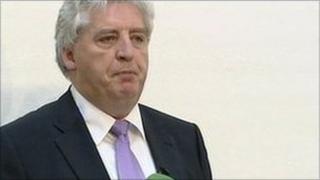 Alasdair McDonnell has apologised for causing offence by arguing MLAs are entitled to more generous pension provisions and a small salary increase.
The SDLP leader's comments in a newspaper interview have been criticised by his own party members, including his deputy Dolores Kelly.
MLAs' pay and pensions are already being reviewed by an independent panel.
Dr McDonnell said a more generous scheme was needed to ensure retired politicians did not end up in poverty.
He drew criticism from the Lisburn SDLP mayor Brian Heading and his own deputy Dolores Kelly who pointed out that party policy is for no rise in MLA wages.
The new leader has now said he is sorry that his words, without explaining the wider context, caused offence to the public and party colleagues.
He acknowledged the party is committed to an MLA wage freeze and pledged to continue to fight the threats posed by job cuts and poverty.